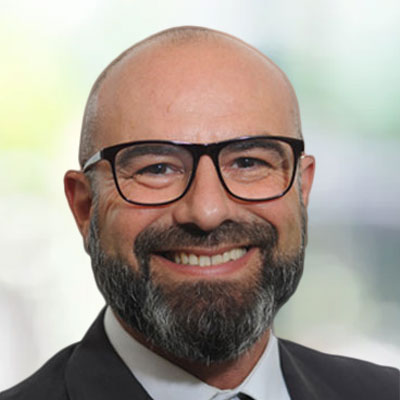 Millian Quaresima, CEO / Country Manager
, +39 0473 690569 + 39 327 7716333

Millian Quaresima is CEO / Country Manager of ISG Italy. Read here about the importance of
positivity, transparency and honesty and how he writes success stories in times of the
pandemic.
Mr. Quaresima, how did your career start?
My career is very unusual for the DACH region. I did my military service at the police, because in Italy you can do the service in different areas. One year with the police turned into five and one day I looked in the mirror I thought that I could do more. My family is working in the commercial department, so the technical aspects of sales are in my blood.
I have been working in sales for years until I moved to Düsseldorf in 2000, where I lived until 2008 and also worked for international companies. After a while, I returned to Italy and started working in sales. Four years ago, I finally came to ISG.
How did you come in contact with ISG?
That is a very interesting story. I read an ad in the newspaper – at a time when print ads still existed (laughs). I applied for a job and had a very professional, impressive interview with Andreas Castiglioni. After three days I received a rejection and was still pleasantly surprised because I had applied for many positions without ever getting any feedback! Some time later I saw another ad from ISG, this time as headhunter/recuruiter. I went through the individual points in the ad and they all applied to me. I called Andreas and expressed my interest. We met again for a conversation and within a short time the decision was made.
So the cancellation actually resulted in the best possible result?
Exactly! I have experience in HR and my dream has always been to be able to do something for people where they perceive themselves as humans beings and feel treated as such. This is done at ISG, which really impressed me, and that is how I shaped ISG Italy and our work.
What is the current situation of ISG Italy like?
We currently have the headquarter in Merano and other locations in Verona, Milan, Parma, Modena, Rimini, Macerata and Naples. The year 2021 is a particularly important year for us as we will be making some changes internally. Now, we have a much clearer line that we have to follow in order to do our job well.
We are 8 employees throughout Italy, I am currently alone at the headquarter in Merano and looking for an internal managing partner. Due to the specialization that should take place in the course of this year, I would like to have a managing partner for each sector, who of course also has to have a certain amount of expertise in the respective industry. We have already started implementing, specifically with a new managing partner who has been a pharmaceutical representative for 20 years.
What services does ISG Italy offer?
We offer recruiting and executive search. We would very much like to expand our offer to include further education and training, but the pandemic hit South Tyrol/Italy very hard.
Are further services planned for the future?
The future envisages increasing the number of Managing Partners and subsequently also offering training. I am a proponent of training, but we are still lacking a market position in the field of coaching & training. In Italy, the first question is always asked about the costs and then about the resulting benefits.
How is ISG Italy positioned?
We as ISG Italy, have a lot competition, but we are among the best in terms of professionalism. We have been existing for four years and have made a name for ourselves in South Tyrol, but not yet outside the borders. Generally speaking, our work differs from that of our competitors: our focus in on quality rather than quantity. First, we get to know our candidates before we send them to our clients. If, for example, a candidate has the best qualifications in the world, but the personality does not suit our client, the we communicate that in exactly the same way.
Is there a success story that emerged during the corona pandemic?
Yes, there is. We were able to fill a position for an Austrian colleague that was very complex and international, and although the profile has changed over time, we were able to successfully fill the position.
I want to highlight a specific example from a company based in South Tyrol that commissioned us to fill a position. Due to the satisfaction, we got another order. In the course of my research, I found the résumé of a Mexican candidate on LinkedIn who lives in Munich. The candidate made a great impression, which is why I contacted him. He was very interested in the job offer. After the interview with him, I sent his CV to the responsible HR department of the company, wereupon they wanted to get to know him personally. Some time later he came to Merano and we went to the company for the interview, in which I also took part. After two more weeks the contract was signed. We were then able to fill another position for this company and at the end of the placement contract, the HR department, which is based in Switzerland, contacted and told us how impressed they are by the quality of work and the smooth process!
I also supported candidates in these difficult times, for example when it came to fears and visions of the future. In my opinion, every negative situation has a positive side and you can always make the best of it!
Do you have any tips for applicants turning to ISG Italy?
Applicants should place their trust in us because they will be treated like humans. That is what makes our work successful. 50% of the occupations in South Tyrol are based on recommendations from candidates, regardless of whether we have placed them or not.
What do you appreciated about being part of ISG?
The internationality, the respect for one another and the same language. There are really great international colleagues with whom I am in regular contact and with whom I exchange ideas about candidates and positions.
Do you have a special philosophy?
Positivity, transparency, honesty and above all I always play with open cards. I always tell the candidates and managing partners the truth. In the past few years I have made mistakes, from which I have learned a lot, so I almost feel obliged to tell others about these mistakes in order to prevent them from making them too.
In addition, I have definitely opted for the longest and most rocky path, as we as ISG Italy were 20-40% more expensive than our competitors from the beginning. For example, a large company from Merano came to us because of our good reputation and although the prices initially deterred the customer, he subsequently returned to us so that we were able to successfully place two positions for him. The customer in question got in touch a short time ago because there was another position to be filled.
At the same time, he recommended us, ISG Italy, an acquaintance who also works as an entrepreneur, to fill a position. Because of our high quality work we are becoming better and better known – which pleases us greatly!