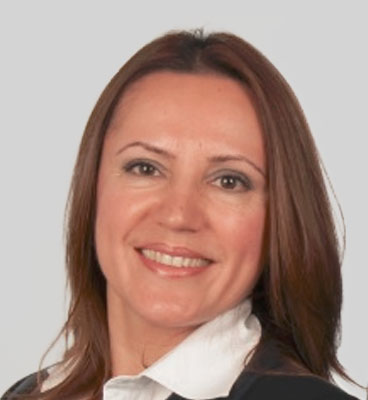 Nuray Zipak Vetr, Country Manager Turkey
, +90 532 373 15 28 +43 678 12 46 772
Ms. Zipak Vetr is the Country Manager for ISG Turkey.
In this interview she talks about ISG Turkey as a host of very successful webinars and how the work at
ISG has broadened her horizon.
Ms. Zipak Vetr, how did your career begin?
After finishing my studies in Economics in Turkey, I started my career in the banking industry in a foreign-exchange department. Subsequently, I moved to Great Britain and returned to Turkey two years later to continue my work within the same industry. I went through several departments and continued my career in the stock exchange. In these 18 years, I worked for different banks in Turkey and was responsible for sales and coordination between branches. The last ten years in a bank, I was working as Country Operation Manager for all branches in Turkey.
In 2012, I got the possibility to join ISG.
Now you are the Country Manager of Turkey. Since you are from a different industry, what have you learned over the past nine years?
While I was working in the banking industry, over the years I have recruited many employees. I had knowledge concerning recruiting and was familiar with all the processes, certainly within the scope of banking and stock exchange. Therefore, I started my work at ISG for finance related jobs and recruited many different levels up to CFO. After a while I got to know other sectors like medical, justice, logistics & transportation and was doing recruitment operations for those sectors very successfully.
In the meantime, I took over most of the operational business of ISG Turkey. We grew very fast over 30 consultants and covered nearly 8 main cities in Turkey. Since the end of 2020, we restrategize the business and I took charge of ISG Turkey and currently I am dealing in the course of management with 15 consultants as well as the business development. Furthermore, I am still recruiting and helping others to improve their business in Turkey.
Do you cover the whole country as ISG Turkey?
We are located in Istanbul, Ankara, Izmir, Bursa, Antalya, Adana as well as in the western part like Tekirdağ / Çerkezköy. The region is in the Western part of Turkey and rather small, but they are becoming emerging industrial cities. So, we are represented in main industrial cities and can cover all the services of HR, from recruiting up to outplacement. We can offer those because our consultant's provided background suitable for the services.
How would you define ISG's situation/position in Turkey?
ISG has a reputation in Turkey that is growing day by day. Especially during pandemic, we were able to turn the wind for our advantage. We increased our digital tools and that enabled us to support companies for delivering our services much quicker without decreasing our quality.
When we talk about the positioning of ISG Turkey, I can think of around 6 big international consultant companies, which are solely headhunting, and another 10 to 15 international & local companies. As we can offer all HR related services, we can cover a broad range and provide high quality tailor-made services.
Since you are a professional recruiter, could you give us little insights about the labour market in Turkey?
The unemployment rate is quite high and is not comparable to Europe. Besides, the employee turnover is also quite high. When an employee works at one company for 5 years, it can be considered as a successful achievement. In Turkey it is quite common to change the position between 1 to 3 years. Certainly, this creates many opportunities for us as consultant company. However, it has a high risk for the companies as the know-how is circulating.
What is your philosophy? What is your USP?
We discuss this quite often and we always reach the consensus that we are mainly senior consultants, who have expertise in the respective sector or in HR general, coaching, outplacement, organizational development etc. Most of the consultants provide more than 20 years of experience, know the sector and the sector dynamics well. We as ISG Turkey can offer HR services from A to Z because we understand the needs and can serve tailor-made services.
Currently, we are pursuing the international exchange with our colleagues all over the world. The IT and healthcare sectors are very important branches and most of the developed countries are in high demand of professional candidates, many of which we have in Turkey. We are collaborating with the European partners for IT and Healthcare Sector and some with Canada. Our goal is to bring talents and the companies internationally.
You have organized some online events in the past months. How did they become that successful?
As ISG Turkey, we could analyze the market's need and use the updated market tools. Those gave us the chance answering questions of clients and be on time to cover the need.
As we have already organized some online events earlier, we did not have any difficulties at all at the time the lockdown started. It was easy for us to reach people and to use the technical tools due to our experiences. People had to stay at home and the speakers/trainers did not have to travel from one city to another – we took advantage of this situation.
We organized online events and talked about training topics and other HR services. In some webinars we had up to 250 participants.
What is the best side in being part of ISG?
I have been working for 30 years so far and since nearly 10 years I have been at ISG. With ISG, I understood that there are other sectors than banking. Our team in Turkey has great experience in terms of sectors and HR itself. Working among such experts is a valuable condition where we share our knowledge and practices within our regular meetings. It gives us the competence and the confidence to understand clients and support them. While we improve our own skills, we can offer innovative and creative solutions to companies.
Considering what I have gained so far; yes, I am happy doing this business since the beginning.