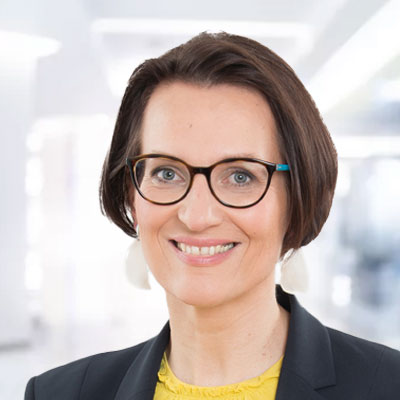 Mag. Martina Petzl
Managing Partner
Martina Petzl began her professional career after her studies of business management at the University of Graz. After a two-year stint with a marketing agency for tourism in Graz, she began working in the HRM department of the Bundesrechnungszentrum GmbH. Her scope of duties included personnel development, recruiting and personnel marketing as well as media and public relations on the job market.
Furthermore, she was entrusted with designing and implementing various projects for the management board (e.g. HR and FM benchmarks, potential and employee satisfaction analyses, affirmative action plans, re-employment strategies after (maternal) leave, development of workforce compensation plans, re-organisation of personnel administration to SAP).
Before venturing into freelance personnel consultancy, Martina Petzl worked at ORF, the Austrian Broadcasting Corporation, on a comprehensive redesign of ORF's HR management focusing on the development of "ORF-Recruiting" as the main service entity within the media enterprise.
Due to her highly developed analytical abilities Martina Petzl can quickly master the most difficult problems and situations and conceive the suitable solutions. Her strengths also include a high sense of responsibility, cost and budget consciousness as well as relevant in-depth knowledge and dedication.
CORE CONSULTING ACTIVITIES:
personnel development, personnel marketing as well as extensive support to businesses in all matters arising from personnel consulting.
Analysis of principal tasks and professional and general requirements of a position
Advertisement and data base research
Structured interviews
Research and direct approach
Selection assessment centers
Presentation of applicants and decision processes
Implementation of employee appraisal interview techniques
Development centers
Design of applicant's communication
Design of advertisements
In the course of a seminar on advertising and sales at Vienna University of Economics, Martina Petzl was able to delve into issues dealing with personnel marketing, corporate culture, corporate identity and design as well as with media and public relations.
Martina Petzl has been a member of ISG since 2002. Due to her personal background in the city of Graz, her main geographical focus is southern Austria therefore offering services to the Styrian business community (computer and IT technologies, pharmaceutical enterprises as well as marketing firms and media).
Motto: "A problem is half solved if it is clearly stated."
Subsidiary
Austria