Staff
Meet the team behind Ankara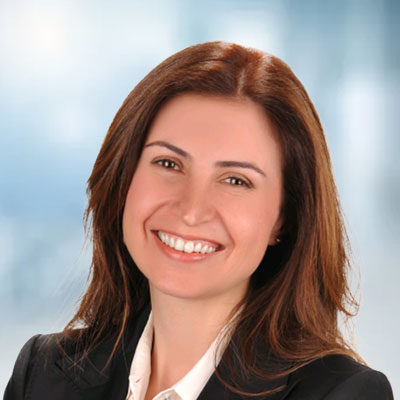 Nesrin Özgüler
Partner
Expertise
Nesrin Özgüler is a Mechanical Engineer and went after her gratuation to the UK to learn English and studied there and returned back with two certificates.
Since 1994, she wored her way up in the automotive industry and promoted many times up to Sales Director Positions. Mrs. Nesrin has a deep insight of automotive and production companies and qualified for a 6 Sigma, Green Belt, specialized on customer management relations and creating new customers. In her 20 years automotive she selected, hired, onboarded and lead high performance teams successfully again and again.
Besides sales and marketing management, she has attended fact-finding conferences, enabeling her to analyse company situations, structure sustainable company strategies and implementing them. She aquired also great skills to motivate employees, develop a company culture and loyalty as well as implementing modern and situational leadership. Mrs. Nesrin has an attidute of continues learning and improving.
After 20 years of automotive experience she now decided to support her industry with her knowledg and network, help other automotive companies to find their best human capital, onboard the right people at the right time and develop them to profit all stakeholders. Therefore she joined to work in ISG Turkey, consulting mainly the sectors automotive, heavy- and manufacturing industries focusing on:
Search & Selection and
Executive Search
Fadime Öz
Partner
Expertise
Fadime Öz is a human resources professional who has 23 years' experience in different levels and functions of HR. During her professional business life in multinational companies, she took part in many projects such as performance management, career planning, training planning, employee engagement and motivation programs, corporate culture programs. Fadime also has a demonstrated history of working on union relations, labor law, quality management and occupational health and safety.
Fadime completed coaching training in 2019. (Sola Unitas / Accredited by ICF)
Fadime's mission in ISG is to be a bridge between companies and candidates, where talents find the job they dream, and clients, the talents they need.
Focus:
Recruitment
HR Consultancy
Motto: "The future depends on what you do today." (Mahatma Gandhi)
Özlem Ayyildiz
Consultant / Trainer / Job Development
Expertise
Özlem AYYILDIZ has a graduate of METU Sociology, after working in different positions in various sectors, she began the MD of Human Resources Management and Career Consultancy at Ankara University in 2008 and became an HR professional with practical experience in other departments which makes her so valuable, because she was sitting on each side of the table, in professional corporations.
Özlem has been working in Human Resources Management since 2006 and is consulting companies and corporations since over a decade. As ISG partner she works in the field of Recruitment, Human Resources Consultancy, Career Consultancy, Performance Management and Salary Management in Ankara and other Cities.
Özlem, is sociable, strong in human relations, successful in team working, and analyzes the HR needs of a fırm very well. She successfully recruits the right people to the right positions.
Business Areas
Recruitment
Human Resources Consultancy
Career Consultancy
Performance Management
Salary Management
Motto: "Don't be Lazy, Don't Give Up, Don't Delay"
Services
We strive for our continuous development and the ongoing improvement of our services to exceed your expectations!